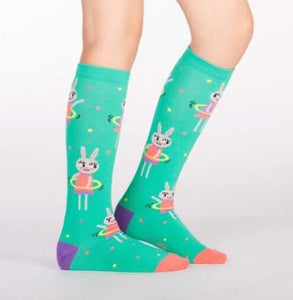 SITM Junior Knee Socks
SITM Junior Knee Kids Socks
Description
Hula hoops have been around for soooo long going through many phases—and the latest craze appears to be hula hooping bunnies! As soon as that first sunny day hits, hop outside, grab your hula hoop and play! You never know how long the sun will shine, so make the most of it, invite some friends and twirl!
Our threads are certified by OEKO-TEX® Standard 100, which means we leave out harmful chemicals to keep your skin safe and happy.
Approximately fits children ages 7-10, shoe size 1-5.
Fiber Content
Kid's 74% Cotton / 24% Polyester / 2% Spandex
SKU
JK0052