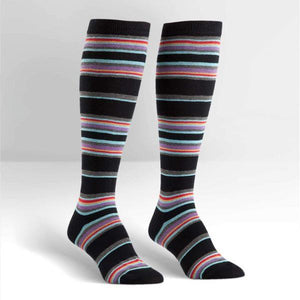 Sock It To Me - Women's Knee High Socks
Sock It To Me Women's Knee High Socks
Extra stretch! Steely grays bring to mind those New York City sidewalks while bright reds remind us of the fluorescent lights in Times Square. Take a bite out of The Big Apple in our extra stretchy east coast stripes!
75% cotton, 20% polyester, 5% spandex. Made in Korea.
Approximately fits women's shoe size 5-11 and men's shoe size 3-9. Our Wide Calf styles comfortably stretch up to 21 inches around the calf and 18 inches at the top elastic.
FINAL SALE